Efforts for quality
Quality Policy
As a member of the Kurita Group, we as a company are united in continuously striving to achieve the Kuritec Service Group Quality Objectives in alignment with the Kurita Group Code of Conduct and Kurita Group Quality Policy.
Work to speedily provide our customers with products, technologies and services that can meet their quality expectations, thereby winning their unshakable trust.
Work to improve the following two kinds of quality from the customer's perspective: "quality in products" and "quality in people."
Work to develop our own capabilities, with the aim of being "a person who knows the workplace and is able to provide customers with value."
Work to develop and improve products, technologies and services with the aim of "improving productivity," and "reducing environmental burdens."
Kuritec Service Group Quality Objectives
[ Zero customer complaints, zero quality nonconformities ]
Commit the customer's requirements to writing, provide the necessary information to everyone involved from the initial inquiry to the delivery, and execute without any omissions.
Continuously improve QMS, so as to provide excellent quality that satisfies the customer.
Continue to provide guidance, until you are satisfied, regarding the abilities necessary (in each stage) for the maintenance and improvement of QMS.
Gather suggestions for improvement, workplace opinions, information on near misses, and other data, and use it to prevent potential problems in the workplace.
Managers must be aware of the latent risks involved in infrequent operations, people, objects, equipment, procedures, information transmission, etc., and must guide and instruct workers in risk reduction measures.
In order to provide correct data related to the quality and performance of products and services, carry out measures to prevent dishonest practices such as falsification of data, forgery, etc.
Quality Management
Our top priority with respect to quality management is that of bringing about consistent quality and heightening production yield in manufacturing semiconductor devices, flat-panel displays (FPDs), and solar and film manufacturing system, based on the notion of improving levels of customer satisfaction.
ISO 9001 quality management implementation
(ISO-certified sites)
Head Office and East Japan, Mie, Iga, Sakai, Harima and Oita sites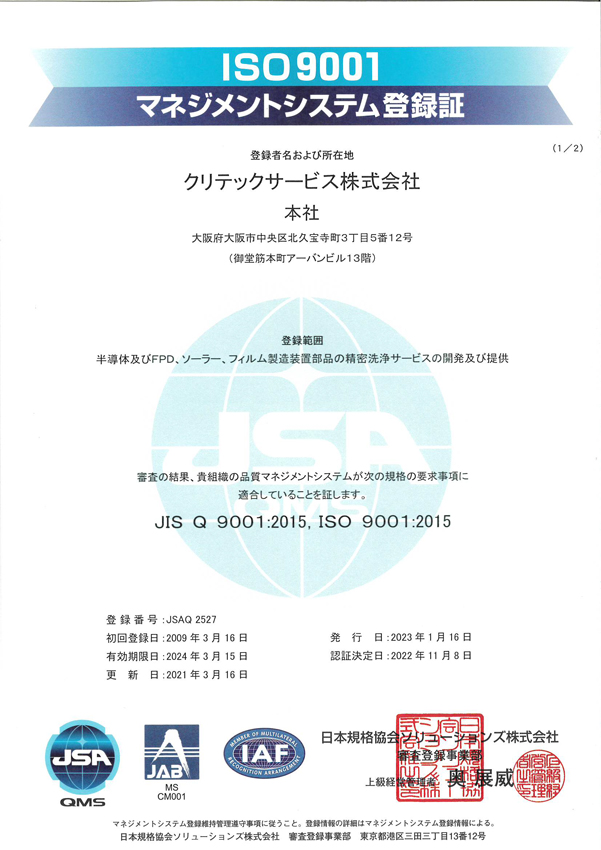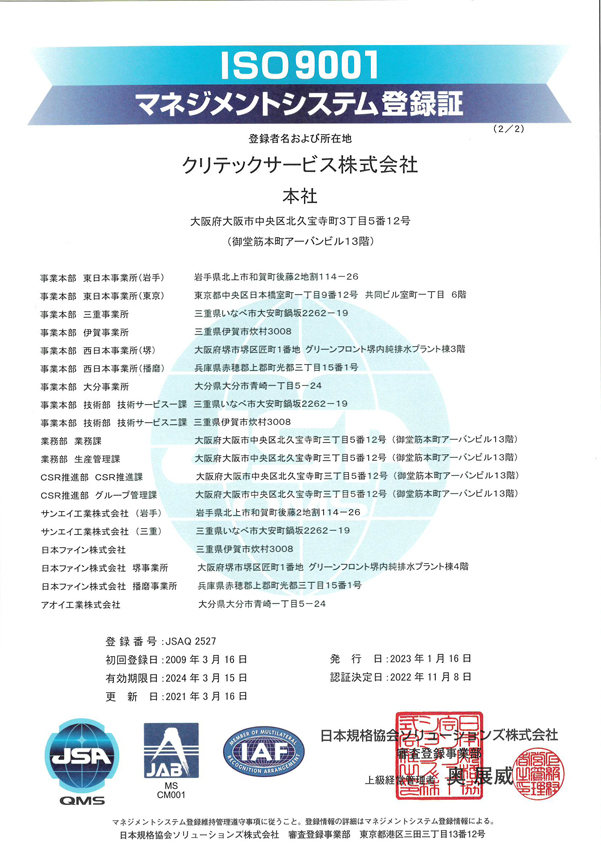 The Kuritec Service Group's Product Improvement Activities
Efforts for customer satisfaction
Continuous improvement of quality management system
Implementation of prevention measures, reduction of quality risk
Eradication of quality nonconformities, complaints
Prevention of falsification, forgery